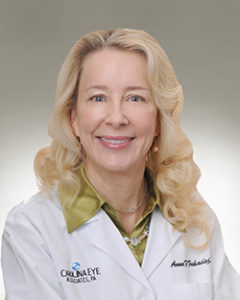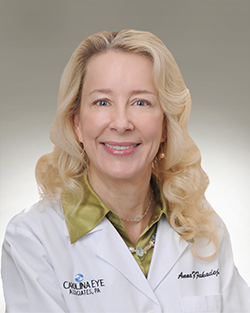 Anna Fakadej, M.D. is a specialist in refractive cataract surgery including correction of astigmatism and presbyopia with various surgical and implant technology. She also specializes in facial rejuvenation and general ophthalmic surgery. She is considered an expert in femtosecond laser and wavefront aberrometry.
She received her bachelor of science/arts degree in chemistry and psychology from Duke University and her medical degree from West Virginia University School of Medicine, where she graduated with awards. She served her internship at the University of Rochester and completed her residency in ophthalmology at the University of Rochester. Dr. Fakadej is certified by the American Board of Ophthalmology and is a fellow of the American Academy of Ophthalmology and American College of Surgeons.
Dr. Fakadej is actively involved in research for intraocular lens technology. She lectures both nationally and internationally to optometrists and ophthalmologists regarding implant technology and refractive cataract surgery. She is an assistant professor at Campbell University's Jerry M. Wallace School of Osteopathic Medicine. She is involved in the community, contributing to local schools as a mentor and volunteers for the Pinecrest Forensics Team. In 2013 was recognized as a leadership donor by the Washington Duke Club Fellows.
She is a partner with Carolina Eye Associates, the president of the Eye Surgery Center of the Carolinas and the medical director for the Ophthalmic Medical Assistance Program for Sandhills Community College. Dr. Fakadej assists the U.S. Army's Special Operations Command by volunteering as a visual expert. She is a foster dog volunteer for K-2 Solutions, a program that trains service dogs for veterans with PTSD, serves on the board of directors for both MIRA (a nonprofit organization that provides free guide dogs for eligible blind children between the ages of 11 and 16) and Friend to Friend (a nonprofit organization for victims of human trafficking and sexual/domestic abuse).
Dr. Fakadej regularly participates with volunteer missions to Ethiopia and India, where she performs sight restoration cataract surgery on patients in under-developed areas. She recently completed the Physician CEO program at Northwestern Kellogg School of Business and received her MBA from Duke University Fuqua School of Business in 2018. In her spare time Dr. Fakadej enjoys yoga and hiking.
Sees Patients In:
Specializes In:
Refractive cataract surgery
Comfort cataract surgery
Advanced technology replacement lenses for cataract surgery
Femtosecond laser
Wavefront aberrometer specialist
YAG laser for after cataract surgery
Treatment of eye diseases and disorders
Aesthetic Services:
Botox cosmetic
Dermal fillers for wrinkles & acne
Laser treatment for facial skin tightening, pigmentation discoloring, wrinkles and folds and hair removal
For more information about Dr. Fakadej, please click here to view her profile. To make an appointment, please contact a scheduler at our appointment desk.