OPHTHALMOLOGIST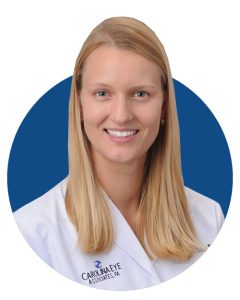 Lisa V. Sitterson, M.D. is a board certified ophthalmologist, specializing in cornea, refractive surgery and external disease. Dr. Sitterson earned her medical degree from the University of Texas Health Science Center in San Antonio. She completed a three-year residency in Ophthalmology at the Storm Eye Institute, Medical University of South Carolina in Charleston. Following her residency, Dr. Sitterson completed her fellowship at Tufts University and Ophthalmic Consultants of Boston with a focus on Cornea, External Disease and Refractive Surgery.
A member of the American Academy of Ophthalmology and the American Society of Cataract and Refractive Surgery, Dr. Sitterson is also proficient in German and Spanish.  In Dr. Sitterson's free time, she enjoys running, competing in Triathlons, scuba diving, and skiing.
Sees patients in:
Specializes in:
Diseases of the cornea and external eye
Custom Blade-free LASIK and PRK
Corneal transplants
Corneal Cross-linking for Keratoconus
DSEK and DMEK partial corneal transplant surgery
Cataract surgery
Advanced technology replacement lenses for cataract surgery
Minimally Invasive Glaucoma Surgery (MIGS)
Ocular surface tumors
YAG laser for after Cataract surgery
AK for astigmatism correction
Clear lens replacement
Surgical iris repair and pupilloplasty
Dislocated IOL and IOL exchange surgery
For more information about Dr. Sitterson, please click here to view her profile. To make an appointment, please contact a scheduler at our appointment desk.
Publications
Waring, G IV, Sitterson LV, Neatrour K. Chapter Ten: Overview of Refractive Lens Exchange in The Fifth Wave: Surgical Treatment for Presbyopia. Slack Incorporated, Thorofare, NJ. 2017
Vogel L, Ply B, Waring G IV. Visual and Tomographic Outcomes before and after Intrastromal Corneal Ring Segment Implantation in Patients with Keratoconus. ASCRS 2017 e-poster
Vogel L, Rocha K. "The Literature" Customized Corneal Cross-linking. Cataract and Refractive Surgery Today Oct 2016
Vogel L, Mageau R, Fitzgerald T. Nodular Lymphoid Hyperplasia Masquerading as Neoplasia of the Bile Duct and Pancreas. J Pancreas (Online) 2015 Sep 20; 16(5):216.
Vogel L, Johnson D. Punctate Corneal Staining in Zwaan J, editor., Decision-Making in Ophthalmology, 3rd edition. Jaypee Brothers Medical Publishers, Philadelphia PA. 2014
Hartnett S, Vogel L. Life Lessons Through Physical Activity- Girls on the Run. Poster Presentation at the 6th Annual Community Service Learning (CSL) Conference. UT Health Science Center San Antonio Texas April 4, 2013.
Ramachandran S, Vogel L, Strahl BD, Dokholyan NV. Thermodynamic stability of histone H3 is a necessary but not sufficient driving force for its evolutionary conservation. PLoS Comput Biol. 2011 Jan 6;7(1):e1001042. PubMed PMID: 21253558.