OPHTHALMOLOGIST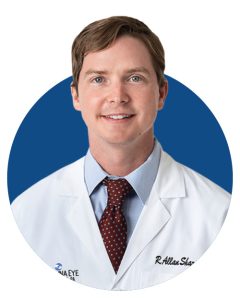 R. Allan Sharpe, MD is a board-certified ophthalmologist specializing in cataract and glaucoma surgery. In addition to offering advanced technology cataract surgery, he has a special interest in minimally invasive glaucoma surgery.
Dr. Sharpe attended the University of North Carolina at Chapel Hill where he studied Romance Languages with minors in Chemistry and Music, graduating with honors. He was inducted into Phi Beta Kappa Honor Society and received the UNC Stoudemire Chancellor's Award for excellence in Spanish. He received his medical degree from the Medical University of South Carolina in Charleston, SC and was inducted into Alpha Omega Alpha Medical Honor Society as a junior. He remained at MUSC to complete a general surgery internship also trained at MUSC's Storm Eye Institute for his ophthalmology residency. During residency he received the William W. Vallotton Award for academic excellence. Dr. Sharpe then completed fellowship training in glaucoma and cataract surgery at the Baylor College of Medicine, Cullen Eye Institute in Houston, TX.
Dr. Sharpe actively participates in research to develop improved glaucoma treatment and surgery. He has authored numerous research papers and several textbook chapters in the field. He is board certified by the American Board of Ophthalmology and is a member of the American Glaucoma Society and American Society of Cataract and Refractive Surgery.
Specializes in:
Refractive cataract surgery
Advanced technology replacement lenses for cataract surgery
Femtosecond laser-assisted cataract surgery
Standard and complex cataract surgery
Astigmatism correction
YAG capsulotomy for after cataract
Traditional glaucoma surgery (including trabeculectomy, tube shunt and XEN)
Minimally invasive glaucoma surgery (including iStent, Hydrus, Kahook dual blade, and OMNI)
Selective Laser Trabeculoplasty (SLT) for glaucoma
Laser peripheral iridotomy (LPI) for narrow or closed angle glaucoma
Sees patients at the following locations:
For more information about Dr. Sharpe, please click here to view his profile. To make an appointment, please contact a scheduler at our appointment desk.
Selected publications:
Sharpe RA, Nelson LA, Stewart JA, Stewart WC. "Intraocular pressure efficacy of glaucoma medications versus placebo in Phase II compared to later phase trials." British Journal of Ophthalmology, 2013; 97: 121-125.
McElligott KM, McElligott JT, Rivell GL, Rolfe RJ, Sharpe RA, Lambright K, Charles LT. "Assessment of Cardiovascular Disease Risk Factors in the Coastal Region of South Carolina." Ethnicity & Disease, 2014; 24: 155-161.
Sharpe RA, Nelson LA, Stewart JA, Stewart WC. "The placebo effect in early phase glaucoma clinical trials." Curr Eye Research. 2015 May; 40(6): 653-6.
Sharpe RA, Austin JP, Kruft B, Nelson LA, Stewart JA, Stewart WC. "Description of Ophthalmic Pharmaceutical and Device Start-Up Companies." Ophthalmic Research. 2015;54(1)6-9.
Sharpe RA, Davidson J, Nelson LA, Stewart JA, Stewart WC. "Techniques to reduce the placebo effect in glaucoma clinical trials." Ophthalmic Research. 2015;54(1):3-5.
Sharpe RA, Kammerdiener LL, Wannamaker KW, Fan J, Sharpe ED. "Comparison of Outcomes of Resident-performed Ahmed Valve Implantation vs Trabeculectomy." J Curr Glaucoma Pract. 2016;10(2):60-67.
Sharpe RA, Camposeo EL, Muzaffar WK, Holcomb MA, Dubno JR, Meyer TA. "Effects of Age and Implanted Ear on Speech Recognition in Adults with Unilateral Cochlear Implants." Audiology Neurotology. 2016;21(4):223-230.
Wannamaker KW, Sharpe RA, Kylstra JA. "Spontaneous Closure of a Macular Hole after Four Failed Vitrectomies in the Setting of Neurofibromatosis-1." Retinal Cases and Brief Reports. 2018 Winter; 12(1):36-38.
Sharpe RA, Kammerdiener LL, Williams DB, Das SK, Nutaitis MJ. "Efficacy of selective laser trabeculoplasty following incisional glaucoma surgery. Int J Ophthalmol. 2018 Jan 18;11(1):71-76.
Sharpe RA, Welch CT, Perry LP. "Ocular structures in a mature ovarian teratoma." American Journal of Ophthalmology Case Reports. Mar 2019;13: 20-21.