LASIK Eye Services in North & South Carolina
Blade-Free LASIK can correct nearsightedness, farsightedness, and astigmatism. It is safe and effective and is one of the most commonly performed elective procedures in the country.
What is LASIK Vision Correction?
LASIK is a common vision correction procedure that helps those who are nearsighted, farsighted, or have astigmatism restore their vision and reduce dependence on glasses and contact lenses.
Laser vision correction procedures work by reshaping the cornea, which is the clear frontmost layer of the eye. When the cornea is properly shaped, light is able to focus correctly onto the retina, which is located in the back of the eye.
LASIK is just one of several surgical options available to reshape the cornea and can restore clear vision. Not all patients are candidates for LASIK. After a thorough examination, it may be determined that other vision correction options are appropriate for you, such as LASEK or PRK.
Take our LASIK self-test to find out if you may be a candidate:
What are the Benefits of LASIK Eye Surgery?
Recent studies have shown that LASIK has a 99% success rate in achieving 20/40 vision or better, and a 90% success rate in achieving 20/20 vision or better.
Patients get fast results and begin experiencing better vision the same or the next day following the procedure.
LASIK is an outpatient procedure; you are able to return home the same day as your LASIK surgery.
Most patients have a reduction in dependence on glasses or contact lenses, and many patients no longer need vision aids at all following LASIK.
LASIK Surgery at Carolina Eye Associates
For 45 years, Carolina Eye Associates has been at the forefront of offering lens-free vision alternatives to our patients. While some centers just offer LASIK, Carolina Eye is a full-service vision correction center offering blade-free, all-laser LASIK with the Johnson & Johnson IFS Femtosecond Laser and the Alcon Wavelight EX500 Excimer Laser, an ultrafast system that may result in better vision, increase safety, and offers a high degree of precision. We also offer AK (astigmatic keratotomy) for astigmatism correction.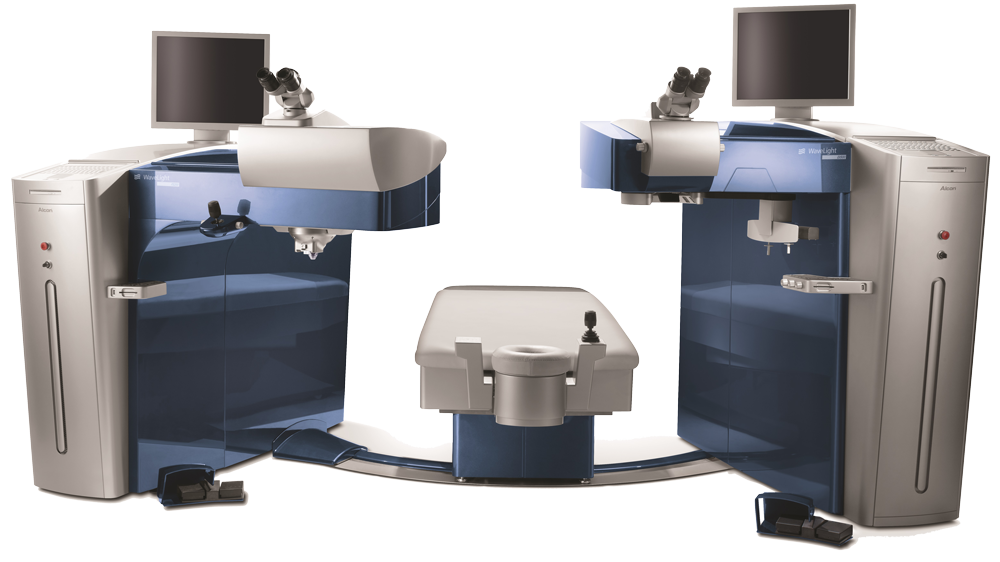 The Wavelight EX500 Excimer Laser is one of the fastest excimer laser systems available in the United States, treating one diopter of correction in approximately 1.4 seconds. An average treatment will take no more than 10-12 seconds – in some cases even less. The precision of this technology has made laser vision correction an even safer procedure.
The EX500 is engineered to consider the natural shape of the human eye, aiming to improve what nature originally designed. Taking into account the unique curvature and biomechanics of the eye, the treatment preserves the quality of vision and addresses the spherical distortions that can induce glare and may affect night vision. 
Innovations help reduce the risks of unwanted nighttime side effects such as glare. The Wavelight EX500 controls the energy level and placement of every laser pulse as it reaches the eye. The laser is equipped with a high-speed eye tracker that follows the eye during treatment. If the eye moves out of range, the procedure pauses until the eye returns to a treatment position.

After years of clinical and technical research, the time has come to consider laser vision correction as an alternative to glasses and contact lenses. Millions of people around the world are already enjoying an improved quality of sight and quality of life. Not all patients are candidates for LASIK. Candidacy must be determined by a medical professional. Risks, side-effects, and realistic expectations will be discussed during your exam prior to LASIK.
For more information on All-Laser LASIK or to schedule a no-cost consultation call (910) 295-1501 or toll-free at (800) 733-9355.
Our Fellowship-Trained LASIK Surgeons:
LASIK Financing Options

As a service to our patients, we are pleased to offer CareCredit, North America's leading patient payment program. With CareCredit you can finance 100% of your procedure and there are no up-front costs, annual fees or prepayment penalties. You can begin your refractive, cosmetic or elective procedure today and conveniently pay with low, monthly payments.