Retina Specialist in Greensboro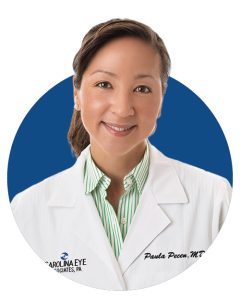 Paula E. Pecen, M.D., joined Carolina Eye Associates in 2021 after spending four years as an Assistant Professor of Ophthalmology at the University of Colorado School of Medicine. She is a specialist of the retina, vitreous, and Uveitis. Her specialty covers the treatment and surgery of diseases and disorders affecting the back of the eye.
She received her medical degree from Duke University and completed her residency at Duke University Eye Center in Durham, NC. Dr. Pecen completed a fellowship in diseases and surgery of the retina and vitreous from Cole Eye Institute at the Cleveland Clinic. Following the completion of her first fellowship, she completed another fellowship in Uveitis from the University of Colorado in Denver.
She is certified by the American Board of Ophthalmology and is a member of the American Academy of Ophthalmology, American Uveitis Society, American Society of Retina Specialist, and Association for Research & Vision in Ophthalmology. Dr. Pecen has authored numerous publications and continues to be involved in national studies and clinical trials.
Dr. Pecen lives in Greensboro with her husband, Derek, who is also an Ophthalmologist at CEA. In her spare time, she enjoys spending time with her young son and daughter, and golden retriever, hiking, cooking, gardening, and running.
Sees Patients In:
Specializes In:
Diabetic eye disease
Retinal vein and artery occlusion
Macular degeneration
Macular hole
Retinal detachment, degeneration, hole, and tear
Epiretinal membrane (macular pucker)
For more information about Dr. Pecen, please click here to view her profile. To make an appointment, please contact a scheduler at our appointment desk.