We Are Carolina Eye Associates.
Carolina Eye Associates (CEA) was established in 1977 by Robert Gale Martin, M.D. and George Tate Jr., M.D. in Pinehurst/Southern Pines, NC.  For 45 years, patients from across the United States and more than 20 foreign countries have come to CEA for their eye care needs. Today, we are one of the largest eye care practices in the Southeast, with 14 eye care centers across North and South Carolina. The centers in Pinehurst/Southern Pines and Greensboro offer a full-service accredited eye surgery center.
You can expect the best at Carolina Eye. Whether you call us directly for an appointment or are referred by your family eye doctor or medical doctor, our physicians and staff will provide you with high-quality medical and surgical care with compassion and personalized attention.
We are committed to excellence and our patients turn to us for the best eye care treatment available. For more information call (910) 295-2100 or toll-free at (800) 733-5357.
About Our Founder, Robert G. Martin, M.D.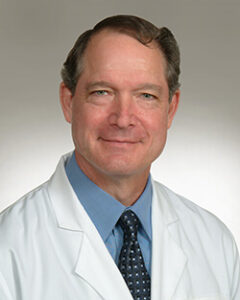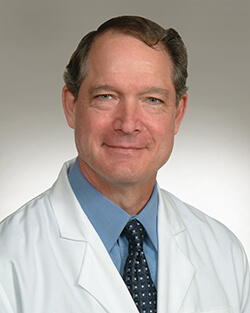 Robert Gale Martin, M.D., 65, the founder of Carolina Eye Associates and a world-renown ophthalmologist in the field of cataract and refractive surgery, died Tuesday, March 18, 2008, at home in Southern Pines, North Carolina.
Martin's humble beginnings no doubt shaped his career. A self-proclaimed country boy, he was born in Winston-Salem and raised on the family's 300-acre farm in rural Wilkes County.  Martin recalled his childhood in an earlier interview saying, "It was all family, work and a big dose of religion everyday – and it was the best thing in life."
With his feet hitting the floor at 4:05 a.m. every morning, he and his twin brother, Dale, would dress, build a fire and head out to the barn to milk their 32 cows and plow fields behind Dolly, their mule. After a lunch of green bean and mustard sandwiches washed down with cold unpasteurized milk and a slice of their mother's chocolate pie, they'd be off to work the tobacco – doing whatever chore was necessary — priming, handing or tying.
He developed a strong work ethic, compassion for others and was taught the value of living by the Golden Rule, by his dad, which became the foundation for everything in his life.
In high school Martin thrived as an athlete, as co-captain of his football team and running track. He also excelled scholastically during a time when being book-smart and knowing English was considered 'unmanly.' But, those credentials earned him a "full-ride" scholarship to any university in the country.
He initially thought he'd go to Duke thinking it was so beautiful, but when he greeted others on campus with his familiar "Hi, how ya do'in?" — no one spoke back. So, he decided to go across town to the University of North Carolina at Chapel Hill (UNC) where he found his "Hi, how ya do'in?" enthusiastically received and followed up with plenty of good friendly Southern-style conversation.
Building a Career
Martin went on to complete his undergraduate studies and medical school education at UNC. After his internship at Jackson Memorial Hospital in Miami, Florida, he joined the Army serving in 5th Special Forces Group Airborne, 1st Special Forces as the unit surgeon until 1971. During his training, he qualified as the honor graduate of the Special Forces SCUBA (Self-Contained Underwater Breathing Apparatus) Course. He remained particularly proud of his military service and by all accounts, maintained a level of physical fitness that was comparable to, or exceeded, his days in Special Forces.
He completed his residency at Southwestern School of Medicine in Dallas, Texas, and later served as director of residency training for the department of ophthalmology.
After his residency he completed a fellowship in microbacteriology at the Proctor Foundation at the University of California, San Francisco, California. He returned to Southwestern where he joined the faculty as an assistant professor of ophthalmology.
Envisioning a New Way
In 1977 he and his wife Bernice, his high-school sweetheart, moved the family to Southern Pines, North Carolina. They purchased a 9,000 square-foot house built in 1929 that needed considerable "fix'in" and Martin said he told his wife, "You know, it'll be slow in this little town, so I'll be here to help fix this place up."
He leased a small office in a professional center and brought modern ophthalmic surgical techniques to the state, most notably small-incision cataract surgery, which he performed using phacoemulsification with implantation of an intraocular lens.
In 1978 Martin asked Dr. George Tate, a colleague from Southwestern Medical School who he tagged as "brilliant," to join him and they established Carolina Eye Associates in Pinehurst, North Carolina.
"Gale believed in the finest technology available for his patients, and early in his career [when he was operating at Moore Regional Hospital] you could see him driving his new equipment to and from the hospital in his Volkswagen bug," says Dr. Gregory J. Mincey, a friend and colleague at CEA.
Their practice quickly outgrew the offices in the professional center. With his usual foresight, Martin envisioned the shift to outpatient surgery well before the rest of the medical community.
State-of-the-Art was the Only Way
They overcame significant regulatory hurdles, and opened a 26,000 square-foot eye center and outpatient surgery facility in Pinehurst in 1982. The facility became the first freestanding outpatient eye surgery center east of the Mississippi and one of the first in the U.S. to be certified by Medicare.
Martin spared no expense in the development of the facility. He made sure it included state-of-the-art exam lanes with diagnostic equipment, and a teaching center, so they could train other doctors in the latest techniques.
"Gale's dream was to create an enduring institution that embodied the excellence and commitment to research of a university department and the flexibility of a private practice," says Mincey. "Fulfilling that dream meant Gale built a partnership of similar-minded physicians, and to keep and attract these men and women he insisted upon a partnership of equals."
An Enduring Legacy
One of the founding tenets of Carolina Eye was the Golden Rule that Martin's father taught him.
"At just about every meeting, whether it was partners or employees, Gale would remind us of our direction in very simple, yet powerful words, 'We practice the Golden Rule. We put our patients first, our employees second, and ourselves third,' " says Mincey repeating Martin's words.
Martin was a well-known and respected ophthalmologist not only in the U.S. but internationally. He authored numerous publications and was one of the principal investigators for ongoing clinical research studies on lens implants used in cataract and lens-free vision procedures.
He was recognized as one of the "Best Doctors in America" (1993 and 2001) by Woodward and White and as one of "America's Top Ophthalmologists" by the Consumers' Research Council of America. He was the author or editor of over 175 books and articles, and a member of numerous academic and professional societies.
Martin was certified by the American Board of Ophthalmology and a member of the American Academy of Ophthalmology. He was one of the busiest anterior segment surgeons in the world and frequently asked to visit foreign countries to share his knowledge.
Among his many accomplishments over the years, he helped establish notable organizations, including the American Board of Eye Surgeons, American Board of Eye Surgery, the Society for Excellence in Eye Care, and the American College of Eye Surgeons. An avid proponent of nutrition as an important adjunct to health, he was a founding member of ScienceBased Health and served on its board of directors and scientific advisory board.
One of Martin's most rewarding experiences was the development of an ophthalmologic clinic and surgery center at the University of Hangzhou, in Zhejiang province, China. The project, which took 18 months, was a joint venture between Carolina Eye Associates, the Chinese University and International Business Consultants. He served as medical director of the China Eye Joint Venture.
In January, Martin was awarded the Order of the Long Leaf Pine, the highest civilian honor granted in North Carolina, by Gov. Mike Easley. It is presented to individuals who have a proven record of extraordinary service to the state. Recipients are selected for this award based upon their outstanding contributions to their communities, careers and years of service to their organizations.
Martin's business endeavors went well beyond ophthalmology into varied fields such as development of high technology diagnostic devices, environmental-friendly technology and new and improved methodologies of clinical education.
Martin was also a philanthropist and donated Martin Park for the enjoyment of the community, but it was his work that captured his attention and fulfilled his life.
"He absolutely loved to work, operate and take care of patients. If you did not understand Gale, you might have felt sorry for someone so single-minded in his devotion to his life's work. But for him, his work was better than a vacation, better than a hobby and more fulfilling," says Mincey.
Another Challenge
During the past five years, as Martin struggled with cancer, he became well-known among area cancer survivors. He lived and worked in total defiance of the disease, saying it was his job to live. He remained enthusiastic about his life, and every one in it, and grateful for the gift of each day.
Centered by the values he learned as a young man on the family farm, he continued to see patients and operate daily, and true to form, often would be seen doing push-ups in his office between patients — never wavering to his health challenge and always placing his patients first.
His said his biggest reward in life was being able to help someone whether it was a patient with an eye complication or another cancer survivor in need of a smile and hug.
"Gale faced his mortal disease with a stoic and positive attitude. He viewed illness as yet another challenge, seeking out every means, and willing to take any risk to succeed," says Mincey. "He reminds me of a great strong lion, many wounds and arrows hanging from his body, yet he moves with seemingly unstoppable purpose. You feel great pity for the moment, but quickly understand that you are witnessing courage and particular grace."
Endowment
In March 2008, an endowment was established in the honor of Dr. Martin, by Medical Ministry International (MMI), a non-denominational medical ministry, which provides scholarships to train ophthalmology residents from third world countries. Once trained, the physicians promise to return to their native countries to provide eye care to indigent and working poor people.
Click here for more information about MMI or contact them via phone at (972) 727-5864.
Gifts may be made payable to MMI/Robert Gale Martin Endowment and mailed to: MMI P.O. Box 1339 Allen, TX 75013
All gifts are tax-deductible. MMI is a 501(c)(3) non-profit organization and a member of the Christian Stewardship Association.