Greensboro Ophthalmologist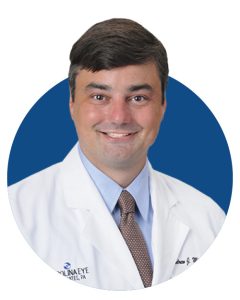 Andrew Mincey, M.D. is a specialist in comprehensive surgical and medical ophthalmology.
He received a Bachelor of Science in biology from Davidson College in Davidson, N.C. and a Masters in Health Science from the Bloomberg School of Public Health at Johns Hopkins University in Baltimore, Md.
Dr. Mincey completed his medical degree from the University of North Carolina, Chapel Hill. He did an internship in General Surgery at the Washington Hospital Center and completed his residency in ophthalmology at the University of Virginia in Charlottesville. He is a member of the American Academy of Ophthalmology and the American Society of Cataract and Refractive Surgery.
Sees Patients In:
Specializes In:
General ophthalmic surgery
Comfort cataract surgery
Advanced technology replacement lenses for cataract surgery
YAG Laser for after cataract surgery
Treatment of eye diseases and disorders
Dr. Mincey spends his spare time hiking, sailing, fishing and hunting.
For more information about Dr. Mincey, please click here to view his profile. To make an appointment, please contact a scheduler at our appointment desk.