Vision Correction Services in Fayetteville, NC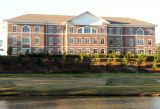 1991 Fordham Drive
Suite 301 & Suite 203
Fayetteville, NC 28304
Local: (910) 485-2020
Toll-free: (800) 598-4850
Fax: (910) 485-7571
Please note beginning May 1, 2023, if you are seeing an Optometrist (OD) you will be seen on the 2nd floor in suite 203. If you are seeing one of our Ophthalmologists (MD), you will be seen on the 3rd floor in suite 301.
Eye Doctors in Fayetteville Center:
LASIK, Cataract Surgery and General Eye Care Services in Fayetteville, NC
When it comes to quality eye care service in the Fayetteville, NC areas, Carolina Eye Associates has the team eye doctors for you. We give the Fayetteville areas a wide range of eye care services. Our ophthalmologists and optometrist offer the surrounding areas of eye care services that include:
Schedule a consultation with our team of expert eye specialists today!