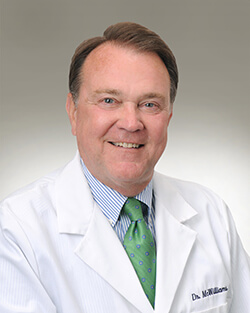 Wilson G. McWilliams, M.D. is a general ophthalmologist specializing in the treatment of eye diseases and disorders.
Dr. McWilliams received his medical degree from the Medical University of South Carolina in Charleston, S.C. and served his internship at Baylor Hospital System in Houston, Texas. He completed his residency at University of Virginia Hospital in Charlottesville, Va. and received fellowships in Strabismus from the Harkness Eye Center at Columbia Presbyterian Hospital in New York and Ophthalmic Genetics from the Wilmer Institute at Johns Hopkins Hospital in Baltimore, Md.
Dr. McWilliams is board certified by the American Board of Ophthalmology and is a member of the American Academy of Ophthalmology and the American Association for Pediatric Ophthalmology and Strabismus.
Sees Patients In:
Specializes In:
Medical management for all types of conditions of the eye and surrounding structures – both routine and urgent
For more information about Dr. McWilliams, please click here to view his profile. To make an appointment, please contact a scheduler at our appointment desk.