Greensboro Ophthalmologist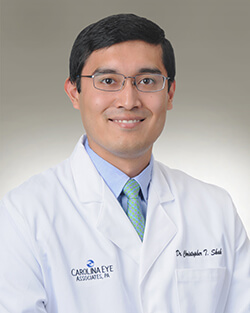 Christopher Shah, M.D. is a specialist in comprehensive surgical and medical ophthalmology and acute eye emergencies.
He received a Bachelor of Science in Engineering from the University of Michigan in Ann Arbor.
Dr. Shah completed his medical degree from Michigan State University College of Human Medicine in East Lansing. He completed his residency in ophthalmology at the University of Virginia in Charlottesville. He is a member of the American Academy of Ophthalmology and the Alpha Omega Alpha Honor Medical Society.
Sees Patients In:
Specializes In:
Dry eye, the treatment and management of dry eye disease
Cataract surgery, both standard and advanced technology cataract surgery
Cornea, removal of pterygium and management of corneal ulcers
Medical retina, the treatment of macular degeneration and diabetic retinopathy
Uveitis, the treatment of inflammatory conditions of the eye
Neuro-ophthalmology, the diagnosis and management of neuro-ophthalmologic problems
Glaucoma, medical, laser and surgical interventions for glaucoma including minimally invasive glaucoma surgery
Oculoplastics, removal of lid lesions, Botox for blepharospasms and hemifacial spasms
Dr. Shah loves to watch Michigan football on Saturdays. He also enjoys playing tennis and cooking.
For more information about Dr. Shah, please click here to view his profile. To make an appointment, please contact a scheduler at our appointment desk.