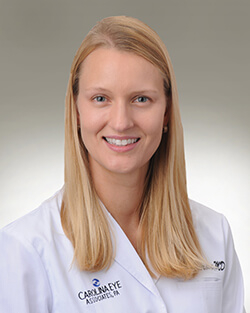 Cornea, Cataract & LASIK Specialist.
Education
Undergraduate: B.S., Biochemistry University of North Carolina at Chapel Hill
Medical School: University of Texas Health Science Center San Antonio
Internship: Vidant Medical Center East Carolina University Greenville, N.C.
Residency: Storm Eye Institute Medical University of South Carolina Charleston, S.C.
Fellowship: Cornea, External Disease & Refractive Surgery Tufts University and Ophthalmic Consultants Boston
Sees patients in:
For more information about Dr. Sitterson, please click here to view her profile. To make an appointment, please contact a scheduler at our appointment desk.
Professional/Academic Colleges & Societies
American Academy of Ophthalmology
American Society of Cataract and Refractive Surgery
Alpha Omega Alpha Honor Society
MUSC SEI Program Evaluation Committee
Honors & Awards
CSL Community Service Learning Project Midi Grant
George W. Brackenridge Scholarship UTHSCSA
Dr. Daniel & Helena Saenz Scholarship, UTHSCSA
Bowen-Vogt Fund Scholarship, UTHSCSA
Publications
(Submitted) Waring, G IV, Sitterson LV, Neatrour K. Chapter Ten: Over-view of Refractive Lens Exchange in The Fifth Wave: Surgical Treatment for Presbyopia. Slack Incorporated, Thorofare, NJ. 2017
Vogel L, Ply B, Waring G IV. Visual and Tomographic Outcomes before and after Intrastromal Corneal Ring Segment Implantation in Patients with Keratoconus. ASCRS 2017 e-poster