Fayetteville Ophthalmologist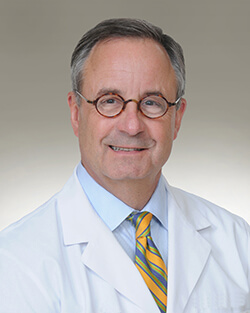 Gregory J. Mincey, M.D., is a specialist of the retina and vitreous. His specialty covers the treatment and surgery of diseases and disorders affecting the back of the eye, including diabetic eye disorders, macular degeneration, retinal detachments, macular hole, epiretinal membrane and trauma to the eye.
Dr. Mincey has authored numerous publications and is one of the principal investigators for ongoing clinical research studies on diabetic retinopathy and macular degeneration treatments.
He received his medical degree from Emory University in Atlanta, Ga., served his internship at Johns Hopkins Hospital in Baltimore, Md., and completed his residency at Johns Hopkins Hospital and the University of Virginia. Dr. Mincey received his fellowship in diseases and surgery of the retina and vitreous from Washington University Barnes Hospital in St. Louis.
He is certified by the American Board of Ophthalmology and is a member of the American Academy of Ophthalmology, American College of Surgeons, American Society of Retina Specialist, Association for Research & Vision in Ophthalmology, International College of Surgeons, North Carolina Ophthalmology Society, Paul Cibis Club, The Royal Society of Medicine and the Wilderness Medical Society
Sees Patients In:
Specializes In:
Diabetic eye disorders
Macular degeneration
Ocular inflammation
Retinal detachment, degenerations, holes
Retinitis pigmentosa
Trauma
Vascular occlusive disease
Dr. Mincey joined Carolina Eye Associates in 1983. He lives in Pinehurst with his wife, Jody. They have two sons, Patrick, an attorney in Wilmington, N.C. and Drew, an ophthalmologist who practices with Carolina Eye Associates in Greensboro, N.C. In his spare time Dr. Mincey enjoys sailing, fly fishing and flying.
For more information about Dr. Mincey, please click here to view his profile. To make an appointment, please contact a scheduler at our appointment desk.