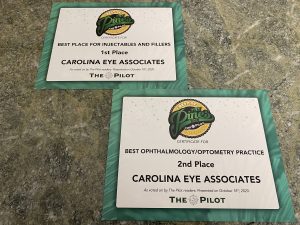 Southern Pines, October 19, 2020 –
Carolina Eye Associates, P.A. is excited to announce that they placed in the Top Three of two categories in the annual Best of the Pines contest. Carolina Eye Associates, P.A. took home 2nd place for "Best Ophthalmology/Optometry Practice". In addition, Carolina Eye tied for 1st place for "Best Place for Injectables and Fillers". The practice has placed among the Top 3 for Best Eye Care the past three years.
Each year The Pilot Newspaper hosts the Annual Best of the Pines event. Residents of Moore County cast their votes for the best businesses, individuals, organizations, and ideas that make Moore County a great place to live. This year the nominating phase occurred for 3 weeks in July and citizens voted once per category. The final voting phase ran through August and included the top 8 nominations from each category. As contest rules state, each voter was allowed one vote per category.
The Best of the Pines magazine published on Sunday, October 18, 2020, by The Pilot Newspaper. The magazine covers the Top 3 winners in the following categories: Shopping, Food and Drink, Health & Fitness, Business and Professional Services, Home and Home Services, Auto and Transporation, Family, Arts and Community, and Best in Show. Copies of the magazine are in local grocery stores, The Village of Pinehurst, and Downtown Southern Pines.
About Carolina Eye:
Established in 1977, Carolina Eye Associates is one of the largest eye care facilities in the Southeast. The multi-specialty clinic provides a full range of quality medical and surgical eye care services. For more information about Carolina Eye Associates, click here.