Corneal disease may cause an overall blurring and haziness of vision.
Corneal Disease
The Cornea and External Diseases Center is dedicated to excellence in medical and surgical care of the complete spectrum of care of conditions involving the cornea and other structures at the front of the eye. This includes dystrophies, infections, corneal swelling, dry eyes and trauma.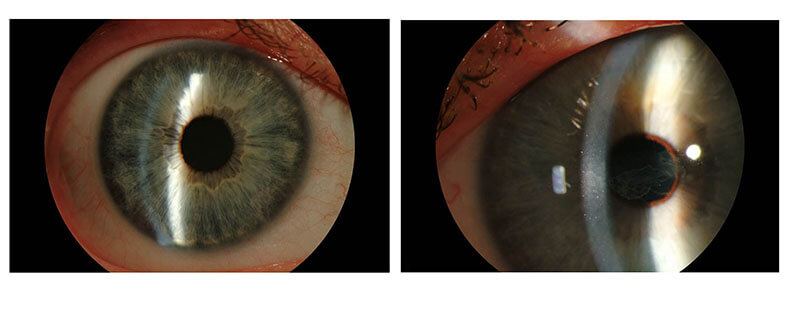 A healthy cornea is pictured on the left while a cornea with corneal disease is pictured on the right.
The Cornea Service offers comprehensive care in the diagnosis and treatment of conditions affecting the front of the eye that can cause redness, pain, and decreased vision. Treatment options include the medications, lasers and outpatient surgery. In the field of corneal surgery, the doctors at Carolina Eye Associates are leaders in DSEK (descemet's stripping with endothelial keratoplasty) surgery. This new procedure can be used for certain diseases where the innermost layers of the cornea are replaced instead of the whole cornea as in a corneal transplant.
For more information call (910) 295-2100 or toll-free at (800) 733-5357.
Doctors: