Optometrist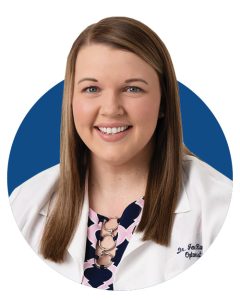 Jenna Roney, O.D. specializes in primary eye care, dry eye management, specialty contact lenses, and surgical co-management. Her specialty covers the medical treatment of diseases and disorders affecting the eyes and pre- and postoperative patient care management.
Dr. Roney received her undergraduate degree from the University of North Carolina Wilmington in Wilmington, NC. She received her Doctor of Optometry degree from the Pennsylvania College of Optometry at Salus University in Elkins Park, PA. In addition to her OD degree, she also received an Advanced Studies certification in Neuro-Ophthalmic Disease. She completed her clinical externships at the Triangle Eye Institute in Raleigh, the W.G. Hefner Veteran Affairs Medical Center in Salisbury, and The Eye Institute in Philadelphia, PA.
She is a member of the American Optometric Association, North Carolina Optometric Society, the College of Optometrists in Vision Development (COVD), the Neuro-Optometric Rehabilitation Association (NORA), and the International Sports Vision Association (ISVA). She is currently working toward her fellowship certification for the American Academy of Optometry. 
Dr. Roney, a native of Alamance County, currently lives in Burlington, NC with her husband Daryl and their son. They also have two Great Pyrenees named Asher and Magnolia that they refer to as "the polar bears". In her spare time, she enjoys spending time with family, traveling, photography, and volunteering in the youth program and worship team at her church.
Sees Patients In:
Specializes In
Comprehensive eye exams
Treatment of eye diseases and disorders
Pre- and postoperative patient care management
Specialty contact lens fitting and evaluation